X-rite measurement technology
We built the PCC on the basis of the X-rite spectrophotometer to guarantee top results.

All-in-one solution
PCC has all the key tools for a press operator needed for make-ready and print quality check, all in one package.

User-friendly software
You can start working with the PCC with no specialized knowledge and in a short time.

Scanning you can rely on
Our extensive know-how and years of practical experience with offset printing presses have gone into the construction of the PCC system. The automated controls are based on the industry leader's components, offering unparalleled reliability.
​Regardless of the type of paper you print on, stiff cardboard or weavy glossy paper… No matter if the paper lies flat on the console or not… … scanning each sheet only takes seconds and is easy to do.
Ink keys presetting software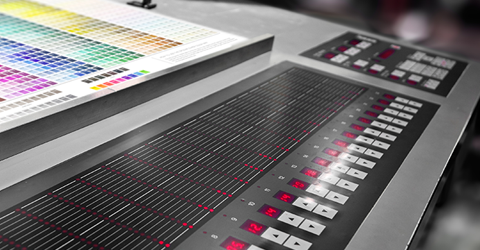 The PCC software allows you to automatically pre-set the ink keys in the press. The preview images created by RIP CTP are translated into a ready program for the printing press. Save the ready program onto a memory card (machine-specific) and then load the ink keys data into the printing press, which will recognize the program as its own. Thanks to the program, you can start the printing process faster and maximize the machine's performance.
Density measurement system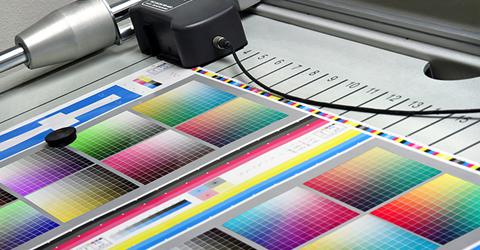 It is a semi-automatic scanning system for ensuring color accuracy in offset printing. Take the printed sheet out the press, lay it on the console and press "Scan." Just 10 seconds later, the operator has complete information in a clear bar graph. Changing the format of the job being printed does not require any changes in the machine (except for verticaly flipped jobs). The operator can refer to all the previous measurements to make sure that the changes are headed in the right direction.
Analzys of ink key preset programs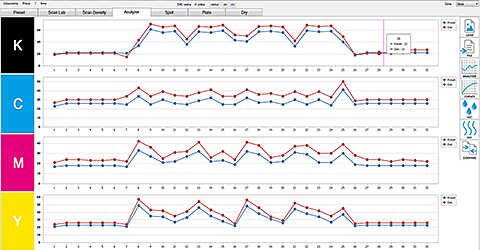 Use the PCC software to analyze and tune the programs for the printing press to improve their performance and efficiency. After finishing a job, save the final settings of the press and compare them with the presets suggested by the PCC at the make-ready. The differences clearly presented in a graph will allow you to tune the printing press program even finer and achieve even better results in the future.
Print faster and earn more.
Quick scan - quicker operator's reaction.
Better program - shorter start-up time.